FORMER PROSECUTORS WORKING FOR YOU.
Fighting for your rights 24/7 with a combined 36 years of experience
CRIMINAL DEFENSE ATTORNEYS IN DALLAS, TEXAS
Our Family Working for Your Family's Future
DEEPLY CARING FOR THE PEOPLE WE SERVE

Non-Judgmental

Focused on Your Future

Solid Relationships

Effective Representation

Core Values & Work Ethic

Hard Work & Peparation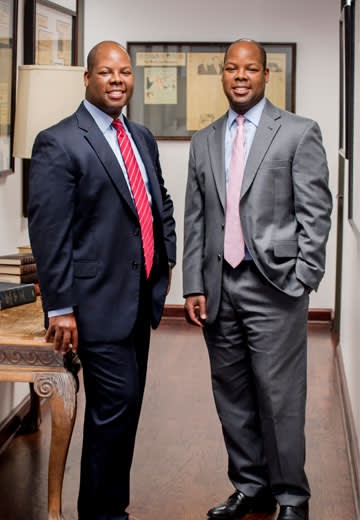 WE ARE DEDICATED TO OUR CLIENTS
Amazing Lawyer!!
Kevin is an amazing, talented and very smart lawyer. He did an A+++ on my cases and I'm 100% happy with the work he has done for me. I would hire him over and over again!! Look no further he is your guy.
Heart for Helping!
Kevin is a very honest man, he went over and beyond to help me and my fiancé! He was very informative and helpful, he didn't treat us like he only cared about money. I'm so thankful for him and his brother!
Top Notch!
Kevin is an outstanding lawyer. He takes the time out to really understand your case and finds the best course of action to take. He is very patient, hard working, and will do everything in his power to help. 5 stars to him!! Thanks Kevin.
Wonderful Representation
Keith was such a blessing to us. He reassured us and kept us informed throughout the process. His working knowledge of the Dallas DA office and the local judges was very helpful and comforting. I hope we never need Keith again, but if we ever do he will be the only lawyer we call.
Definition of a Life Saver!
I found myself in a very unfortunate situation with an estranged ex; Keith worked around the clock to prove my innocence in what would've been over a decade of prison time. If it wasn't for Mr. Harris I would have had lost more than just my freedom, he made sure to represent me to the fullest & keep me up to date with any/all information regarding the case.
Injury to Child
Case Dismissed
Client charged with Injury to a Child after police believed that she was excessively punishing her child. Harris & Harris was able to get the case fully dismissed.
Probation Violations
Continued Probation
Client had been previously placed on probation for 3 felony theft cases, a Possession of a Controlled Substance with Intent to Deliver, and an Unauthorized Use of a Motor Vehicle. The State had previously tried to revoke his probation 2 times.
Reduced to Misdemeanor
Aggravated Assault
Client charged with a felony Aggravated Assault/Deadly Weapon. The case alleged that the client grabbed a butcher knife and chased his wife around her vehicle. Harris & Harris successfully got the charge reduced to a misdemeanor.
Baylor Law Criminal Law Society Podcast
Keith and Kevin had the opportunity to discuss their defense practice and issues that they've faced over their careers on the Baylor Law Criminal Law Society Podcast. You can listen to them here.
Read More
---
OUR OATH IS TO FIGHT FOR YOU BEYOND LIMITATIONS
PEOPLE'S JOBS, FUTURES, AND FINANCES ARE AT RISK.
The potential impact of a criminal conviction can be detrimental, even if the charges appear to be minor. The outcome of any case can carry immediate penalties like jail time or fines. Sometimes, the consequences can be far-reaching, impacting you for years to come. Harris & Harris understands the varying degrees of impact in all different types of cases and will work hard to get the best outcome for you – no matter the case.
It's our goal to get to know you and your case from the first time we talk with you. Harris & Harris is the lawyer and legal team that you need committed to keeping you updated over the course of your case. There's a lot on the line for you and your family member; the peace of mind offered by a dedicated legal team can help you work through the complicated criminal justice system so you can make educated decisions quickly and know what to expect.
Any criminal charge can influence your life for years to come. Don't wait to get help if you have been recently accused; taking action and hiring a knowledgeable lawyer can make a big difference in your case and ensure your rights are protected.